Jurassic World: Dominion Dominates Fandom Wikis - The Loop
Play Sound

"Seriously Maudie? The mad professor is obviously a boy, had you even seen the movie?"

This article contains spoilers. We recommend that you watch the series before reading this article, or if it is not possible, read it at your own risk.
"The Case of the Concert Catastrophe" is the first episode of the second season of The InBESTigators, and the 21st episode overall.
Synopsis
Maudie is crushed when her tickets to a pop concert go missing, especially since it seems likely that she herself has misplaced them.
Plot
The episode starts with Maudie and Ezra starting another case report from the agency, to tell something very special, and Kyle interrupts saying that he found $5 in his jeans, only Maudie denies that, where they say it was something bigger. Moving to school, Ava appears listening to something on her headset and Maudie, upon seeing her, is curious and asks what it is. Ava gave her the headphones and Kyle interrupts saying that the most amazing thing is to find 5 dollars, so Maudie continues, where then, when she puts on the headphones, a pop genre song starts playing, which makes Maudie very surprised. After hearing it all, Ava says that the song she heard is from a band called The January Valentines, whose name is "Revolution Girl" and says that Maudie must have heard it in the car, but she denies it, since her father listening to things like history, science, books, among other things.
Ava is shocked to see that Maudie has never heard of January Valentines, claiming the best pop music group in the world, which is from England consisting of Kate, Jess, Adina and Sam. Soon, she started to tell Maudie everything about the group, but what impressed Maudie was when Ava said she was going to go to their show, making her curious and asking if she can go, and Ava says that Pixie and Max goes, too, and Max's mum is going to buy the tickets and thinks she can definitely buy one more for Maudie. The two run to Max to ask if they can buy another ticket for Maudie. Kyle interrupts about what crime they are reporting, since he doesn't remember. Back to the story, Max, in response to Maudie's question if her mother can buy another ticket, says that she should ask her father the same day, as Max's mother will buy the next day. Maudie was uncertain if her father would let go because she has never been to a show before. At his house, Maudi introduces the band to his father, Brian, and shows the song "Revolution Girl", saying that their show may be incredible, but Brian wonders if this will be more incredible from the muments they spent together. Maudie asks if she can go, and Brian says he won't be able to go if he goes along, and Maudie accepts, and they start dancing with the song "Revolution Girl" playing.
Brian called Max's mother, who he knew a little, as she was also a doctor, and she agreed to buy two more tickets (one for Maudie and one for Brian). Kyle remembers what the crime is and tries to guess: that Max's mother stole the money she used to buy tickets and bought a car, which leaves Ezra and Maduie confused. At school, the only thing that Maudie thinks about was just for January Valentines, and because of that, she ended up being distracted from her duties, which led Miss Tan to forbid talking about the group during class. Soon, in a moment, everyone started to sing the song "Revolution Girl", and Miss Tan considered it a way to talk about the band, however, Maudie was singing, and she didn't know why she was so excited. The next day, Max arrived excited about the tickets at school, and Maudie, Ava and Pixie were excited, but it wasn't just them, but all the students, who gathered over Max, wanting to look at the tickets. Kyle was also present, but he was under everyone, and the same, during the case, considered that nonsense. Soon, Mrs Parides interrupts and orders everyone to leave, because Max is afraid of crowds, and ordered Max to take a deep breath, where Maudie, upset by this, saw that it was time to contain her excitement.
After school, Maudie, together with Ezra and Kyle, goes to her house to find a perfect place to store tickets, while leaving Ezra and Kyle making salmon sandwiches with peanut butter, and she then decides to keep it in the drawer where her father he keeps very valuable things for him, like badges, tickets and cards. After that, Maudie waited nine nights of sleep until the day of the show. On the day, Ava, Pixie and Max go to Maudie's house, and they are all excited for the show, including Maudie, who says they must get ready in her room to go to the show quickly because, according to her father, 45.000 people go to the show, but Ava interrupts, reminding Maudie to contain her excitement, and then everyone runs excitedly inside. Everyone, before getting ready, went to dinner, however, Ava, Msudie and Max are so excited that they decide to go to Maudie's room to get ready. Before Maudie can go to her room, Brian asks if she remembered to get the tickets, where Maudie reminds him that he is in his special stuff drawer, and is annoyed to see that he is taking the joke. Max decides to stay in the living room to finish eating, and Brian, while taking the dishes to the kitchen, notes that the girls put on the song "Revolution Girl", but he ends up dancing.
Soon after, they are all ready to go to the show, however, Brian asks where the tickets are, because he turned the drawer of special things and didn't find it, which shocks Maudie and it makes her think that he accidentally took them and put them in another place, but in fact, Brian begins to think that it was Maudie herself, since, since she heard about January Valentines, she has become very distracted lately, and Maudie then remembers the last days, finally making her believe that the fact that she was too distracted was true. She calls Ezra and Kyle asking if they saw her saving the tickets, however, they were, during that moment, making salmon sandwiches with peanut butter. Everyone started looking anywhere Maudie could have accidentally put it, but they didn't find it, and it all starts to make Maudie upset and pessimistic, but Brian tells her to search her room with the girls.
However, she was so upset that she then gave up, blaming herself for everyone being in this situation and that they won't be able to go to the show, but they all encourage her to keep looking, since the important thing is to never give up. Ava and Pixie recall that she kept the tickets while Ezra and Kyle were making sandwiches, and Max recalls that he had tickets, cards and doctor's badges, and what Max said makes Maudie think she knows where they are. However, Pixie says that Maudie also said, but she remembers that she only mentioned "badges", since it has many types, and Max could only know that she has doctor badges because her mother is also a doctor and also has, making everyone shocked to see that Max actually pulled the tickets out of the drawer.
All of this happened when the others were getting ready and Brian was cleaning the dishes, and because the music was so loud, he didn't even hear it and was dancing at that moment, and Max assumes that she is afraid to go to the show, the which makes Kyle confused, since he doesn't know what he's afraid of. Maudie ends up remembering that Max is afraid of crowds, and Max started to be afraid when Maudie accidentally mentioned that there would be 45,000 people on the show. Ava and Pixie remind her that she could have told them, and Maudie recommends that she could tell her dad, since he is very good at these things.
After that, Brian talked to Max reminding her that they would be arriving early to avoid crowds, and even though the show would be packed, she would be safe, and so, they went to the January Valentines show, and Maudie considered that night best of her life, and shows on camera that the sweater she was wearing is actually January Valentines, that her father had given her and when she's not wearing it, she will keep it in the drawer for special things, and episode ends with Maudie turning on her sweater, showing the January Valentines banner, while the song "Revolution Girl" plays.
Cast & Characters
| Actor | Character |
| --- | --- |
| Anna Cooke | Maudie Miller |
| Aston Droomer | Ezra Banks |
| Abby Bergman | Ava Andrikides |
| Jamil Smyth-Secka | Kyle Klimson |
| Maria Angelico | Miss Tan |
| Madeleine Jevic | Miss Parides |
| Soraya Briggs | Max |
| Hannah Leigh Struckett | Pixie |
| Frank Woodley | Brian Miller |
Features
Locations
Items
Groups
Report Details
Characters
Crime Details
Victim
Suspects
Culprits
| Name | Motive |
| --- | --- |
| Max | She hid the tickets because she was scared of big crowds, and there were 45,000 people attending, including them. |
Videos
Trivia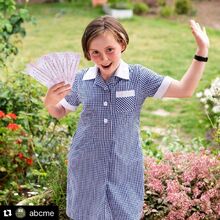 A sneak peek of the series was posted on Jamil Smyth-Secka's official Instagram account on November 11, 2019.[2]
This is the first episode where Maudie reports the case along with Ezra and the third time that she records along with Kyle.
This is the second time where the case report occurs in trio, after "The Case of the Very Lost Notebook".
The episode features the second appearance of Brian Miller.
Is is the first episode where Max takes the role of culprit, because of her fear, after being a suspect in "The Case of the Sleepover Secret".
As shown in the tickets, it's revealed that:

The January Valentines' concert was on Monday 30th, but the month is unknown.
The concert was in Melbourne, at the Mid-Centre Stadium, which isn't a real place.
Cultural References
Ava's headset, in which she gives Maudie to listen to the song "Revolution Girl", belongs to the JBL brand.
One of Maudie and Brian's dances is similar to the Fresh dance, which is one of the emotes in Fortnite: Battle Royale.
The book that Max was reading is Kids' Night In, written by Morris Gleitzman.
Continuity
Ava's shock that Maudie didn't hear anything about January Valentines is similar to other shocks in previous episodes:
Ezra still doesn't like Peanut Butter and Salmon, Maudie's favourite dishes, first saw in "The Case of the Disappearing Deliveries".
Ava mentions that Pixie loses everything "every 5 minutes", which is similar to an Ezra line in "The Case of the Science Sabotage" in which he says Ava praises "every 5 minutes".
References