We're Getting Mutants in the MCU - The Loop
Play Sound
Maudie Miller is one of the main protagonist of The InBESTigators. She is portrayed by Anna Cooke.
Personality
"

The Level-Headed Problem Solver

"
—Maudie's description on her bio image.
Maudie, during her first appearance, proved to be an extremely skilled girl in solving mysteries and various puzzles, and this generally impressed Ezra, Ava, and Kyle. Maudie helped Ezra to get out of trouble with the school principal, Mr. McGillick, since he thought he had taken Ava's can of money to buy the website software he wanted for $75 after a failed attempt to convince Mr. McGillick to give him the school card, and uncovers the culprit without any doubt, and because of that, she, along with Ezra, Ava and Kyle, formed the investigative agency that would be known as The Inbestigators.
During the investigations, Maudie leads the group and shows to be very observant in relation to the crime and the environment in which everything happened. In addition, while interviewing people who are suspicious or who have a relationship with the victim, she uses her notebook to write down any details of the case they got, leading to the possible culprit. This leaves many people impressed, including adults, even though she is a 10-year-old girl (11 at the end of the first season). However, Ezra, Ava and Kyle are confused about what Maudie is referring to when explaining a crime and also feel insecure. Ezra, because of that, finds her frustrating, as seen in "The Case of the Pestering Prank Caller", because she refuses his request to buy the Franklin Cube, but the same bow that doesn't need any technology to be able to solve a case.
However, the first time Maudie felt doubtful while investigating a case was in "The Case of the Perplexing Painting", when someone spoiled Esther's painting and Caitlin was the main suspect in the crime, however, she left no trace of proof even to conclude that it is her, which left Maudie with great difficulties, especially since she ate the cookie she had thrown so no one would suspect her, but she finally burps, leading Maudie to have at least a proof of the case and so, she manages to solve everything, after Caitlin assumes what she had done to Mr. McGillick.
One of Maudie's biggest problems in her personality is her honesty, because she is very sincere, she always opens up her opinion about everything, which offends someone and they consider it as a very rude act. The first example of this was when she told Sophie, in "The Case of the Disappearing Deliveries", that she earned a lot of money in the store where she works, and Ezra considered it rude, which influenced her to talk to Grace in the same episode in which it is rude to talk about how much people earn. Despite this, Maudie is also trying to correct his defect. Maudie also proves to be quite a joke (something she possibly endowed with her father), where Ezra is not a big fan, where she always made any joke (during a case report or during an investigation). She also loves peanut butter and salmon, and always makes sandwiches out of these ingredients, which Ezra doesn't like, and the only person who is passionate about her sandwiches is Kyle.
However, Maudie considers her notebook special, mainly because it has pictures of her last moments with her mother, who died due to a mysterious illness. Then, in "The Case of the Very Lost Notebook", when she lost her notebook, Maudie ended up collapsing in a desperate way and was very discouraged that she came to say the whole time "I can't remember", where Ava thought she couldn't more to remember her mother after losing her notebook. Besides, she was so upset that she was acting very strange during classes and couldn't think of anything else, until Kyle finally found her notebook, and Maudie was so grateful that she showed her pictures to her mother, and remembered very well when was it.
Appearance
"

Maudie is different. It's not just the way she wears boots instead of school shoes and has short hair instead of the regulation gradefive-girl-ponytail and, in fact, doesn't even seem to care what she looks like.

"
—The InBESTigators: Teaching Toolkit, page 13.
Maudie has short brown hair with brown eyes and fair skin. In addition, Maudie shows herself to be shorter than most characters in the series, including her fellow investigators.
School
Maudie alternates between Middle Primary School's uniform blue gingham dress and the light blue uniform polo shirt and navy blue skirt, often with the school jumper or a long sleeve shirt under the shirt or dress. She wears boots and leggings as well.
Casual
History
Background
Prior to the series, Maudie lived in England. She was born to Brian Miller and an unknown mother. At some point in her childhood, Maudie lost her mother to an unknown illness, which is why she keeps a photo of her with her mother in her notebook as a memory. Also, Maudie didn't have too many friends in England, which concludes that she was a lonely girl.
Maudie, along with her father, Brian Miller, move from England to Australia, years after her mother's death and are transferred to Middle Primary School. When she starts her first day, she meets the principal, Mr Mcgilick, who wants to introduce her to school. Maudie asks if he is really the "World's Best Principal", as written on the mug, and he replies that he is quite special. So, when he starts to take her to introduce her to school, Mr. Mcgilick puts a folder on top of his mug to prevent the coffee from cooling, which shocks Maudie. So, Mr. Mcglick gives Ezra a special project that will stimulate him at the request of his mother, who is taking care of the new student, Maudie, which makes Ezra think that it is not a very good special project for him. Ezra starts looking for the girl on the playground, but doesn't see her. When Ezra was reading one of his favourite books in the library and asks why the fireman is to blame, Maudie enters the library through the window and replies that the fireman is the only man and is called Craig, which surprises Ezra, also because she has entered through the window. Soon, when Ezra decides to show her to school, Maudie disappears, where she had left for the door. Ava appears in the library to meet her, but sees only Ezra, and leaves him to look after his can full of money. Then, when Ava, desperate, asks Mr Mcgilick to write a report about a missing person, Maudie appears at the door, saying that the reason she went out the window was for her to go around and enter the library door. Ava then embraces her.
Soon after, Ava notices that her owl tin has been stolen, which causes her to accuse Kyle of taking her money because he always forgets to pay for the things he bought, however, Ezra defends him. So when Ezra says he was with the can the whole time, Mr Mcgilick begins to suspect that he took the money to buy the website software he wanted to buy for $75 dollars and asks him to see his backpack. Kyle defends him, saying that Ezra would never steal anything other than his own, and then when he picks up the backpack, he reveals Ava's money can. Maudie doubts that Ezra stole the can and the backpack was open and questions Ava what she remembers from her cupcake stand, where she left the can alone when Miss Tan called everyone in to help her pick up the papers that were being blown away. Soon, Ezra says that he had put the can on top of the bookcase and then remembers that Kyle had hit him with the basketball, which hit the bookcase and that caused the can to fall into Ezra's backpack. Even so, Maudie says that someone had stolen Ava's money, and when Ava opens it, she reveals a large number of pebbles, where she sees that Billy is responsible, because he was desperate to see that as he didn't have boots, he couldn't participate in the football championship, so when everyone was helping Miss Tan, he took all the coins and replaced them with pebbles, where everyone is impressed. This soon gave Ezra an idea for a much better special project: forming an Inbestigators investigation agency, along with Maudie, Ava and Kyle.
Together with Ezra, Maudie makes a pamphlet of the address of the Inbestigators' office with a map, as it is somewhat difficult to find. While tidying up the office with Ezra, the two are visited by Sophie, who needs help. Soon, she is surprised to see that the members of the agency are children and decides to leave. Maudie makes her stand by saying that she had come by bike and that she works at the frozen yogurt shop, which makes her impressed. Soon, they begin to question Sophie what she needs help with, saying that the frozen-yoghurt packages she had ordered from online stores, which are delivered to her home at 4:55 pm and are mysteriously being stolen. After Sophie talks about herself, Maudie says she makes a lot of money working at the frozen yogurt shop. Ezra replies that it is rude to talk about how much people earn. So, Sophie pays them with $20 dollars, making Ezra excited to win $20 dollars and they accept the case.
Maudie, along with Ezra, Ava and Kyle, meet Sophie at her house after school that afternoon and meet Sophie's best friend, Grace, where Ava praises her earrings that were given to Sophie, where she says she has so lucky to make money at the Frozen-yogurt shop. Upon hearing her say this, Maudie accidentally insults Grace when she says it is very rude to talk about how much people earn from salary, which makes Grace very angry and at the same time, starts to be very mean with the group, despite Sophie's claims. Soon, Sophie enters the house and when Grace decides to leave, Sophie mysteriously falls to the floor, revealing herself to be one of her little brother Oliver's antics. Soon, they meet the neighbour Joanna, who keeps singing for a minute, revealing that she was rehearsing for an audition for a role in an opera group. Soon, Grace leaves, and the group decides to go to Joanna's house to interrogate her. Then, Maudie and Ava pat Joanna's pet dog, Dustin, and ask if she saw anything strange, but nothing. So, Ezra decides to go and interrogate another neighbour, however, Sophie discovers that she is without her cell phone, and when Maudie calls on her cell phone, Oliver reveals that she got him out of confusion, but Maudie disagrees, saying that he had intentionally caught him and he had also. the packages.
Therefore, Ava disagrees, saying it was Grace because she was jealous of Sophie making a lot of money. However, Maudie disagrees, saying that she was in the experience to be hired at the frozen-yogurt shop and at the same time, Maudie denies that it was Joanna or a giant eagle. Soon, Maudie reveals that Sophie's packages were inside Joanna's mini-van, where Oliver picked them up when he was helping Dustin poop, all with the goal of making her stay at home, and she also took out her cell phone. and left things scattered for the same reason. Oliver reveals that the other reason was that he didn't want to be with Joanna because she was singing all the time. Soon, Oliver apologizes to his sister, making a great happy ending. Maudie was reporting the case with Kyle while they were cleaning the office, which is actually a house where his grandmother always stays since she was going to visit him the next day. Soon after, Maudie and Kyle end the affair by eating a peanut butter sandwich with salmon.
Maudie participates in Sports Carnival, an annual sporting event that is Kyle's favourite, as he likes sports. She represents the red house, as well as Ezra, Ava and Kyle himself, and starts cheering for him during the 100 meter race, but goes into shock when Kyle loses and even more when he throws the finish line flag, and witness Mrs Parides, completely angry, banishing him from the entire event and telling him to take the flag and put it back, but Kyle leaves. Then, Maudie, along with Ezra and Ava, find Kyle in the library, who is completely upset and in tears for having lost the race, and they agree to go and take the flag and put it back on the finish line so the juniors could compete in the 100 meters.
However, when he does all of this, Maudie begins to measure the runway, leaving the others very confused, and discovers that, in fact, the runway was ninety-four meters instead of a hundred, and then remembers that the last person who was measuring the track was Ethan, concluding then that he cheated. Maudie sees Ethan excusing Kyle for cheating on the race and declaring him a winner. After that, she is happy that, even with Kyle banned from the event, he can enter the District Competition. She then represents her home at the shotput event, but she ends up being distracted by Kyle, who was rooting for her.
Maudie enters the fifth grade rock climbing excursion. One day before it, she asks Miss Tan when they will be leaving, and Miss Tan reveals that they will be leaving at the latest at 9:15 in the morning. On the day of the excursion, she reunites with the other fifth year students, including Ezra, Ava and Kyle, however, the latter of whom arrived late. She witnesses Miss Tan realizing that students' permission slips are not in her briefcase, seeing that they will not be able to go on the tour without them. Miss Tan decides to go looking, but Maudie and the others also decide to go help, since it was 10 minutes before they went on the excursion. They look in every corner of the room, but they can't find it. With a few minutes left, Maudie reveals her suspicion about Ruby, because she is the only one who was not excited to go on the excursion, leading Kyle to accuse her of hiding the permission slips, however, she denies this, and the discussion is interrupted when Mario finds the permission slips, much to everyone's surprise, except for Maudie, who starts to suspect Mario and moves slowly to the coach while everyone else rushes .
Back in line, Miss Tan interrupts and tells Maudie to find Pixie and Mario's permits while she makes the call. When meeting Mario's, she is in doubt, since Nonna Rischitelli, his nan, signed it, but she denies this because if she were really signing, she would not write her name "Nonna Rischitelli", using as an example her grandmother Nancy Miller, concluding that Mario signed it himself and at the same time that he hid the authorizations. On the bus, Maudie explains that the reason he did this was because his nonna didn't want him to go on the climb thinking it was too dangerous, and that's why he asked Miss Tan if it was safe. However, seeing that permits were essential for the entire room to go to exception, Mario noticed this and decided to go and help Miss Tan look only to sign a blank permit, which allowed him to go. During the tour, Maudie, along with other students, beat Ezra on the climb.
Relationships
Family
Maudie's Mum
Maudie's relationship with her mother is still unknown, but it is certainly with a lot of affection. She died due to a mysterious illness, but Maudie doesn't remember very well, and because of that, when she lost her notebook, Ava thought the possible origin of Maudie's distracted personality was due to the photos, since if she lost them, she would lose the last memory she would have of her mother.
Maudie has a good relationship with her father, Brian, who always ends up caring about his daughter and what she always does, and respects her work as an investigator, since she always tells about her friends. He also cares about the girl's socializing, and when he met Ava, Ezra and Kyle, he agreed to have a party with friends, as it is a great socializing opportunity. In addition, she always respects his work as a neurosurgeon and because of that, always comments on what he does and what he likes to do in his spare time. However, Maudie is irritated by his jokes, which are like hers, quite dull, and especially when it comes to a very serious matter.
Friends
Ezra first met Maudie when he was offered by Mr. McGillick, as a special project, to guide her through school. However, Ezra thought that this was not a special project, until he met Maudie, who, while he was reading his favourite book, she went through the window and solved the riddle, which made Ezra start to be fascinated from there. for the girl's cleverness. After she solves a crime in which she frees Ezra from confusion with the director, he finally realizes why Mr. McGillick asked the boy to take care of her: this is because he knew they were in agreement. This gives Ezra an idea to found the inbestigators' research agency, along with Maudie, Ezra and Kyle.
During the investigations, Ezra felt insecure when working together with a girl as smart as Maudie, where he always disagrees with the flaws she has in her behaviour, such as her sincerity, which she shows all the time and ends up accidentally insulting people. people, where it states that she is trying to correct her defect. Ezra generally disagrees with Maudie's statements during some case, but after she explains why, Ezra finally comes to agree with her. "The Case of the Pestering Prank Caller" showed that Ezra finds Maudie frustrating because she refused his request to let him buy Franklin Cube, which could be useful in crimes like Ezra and other neighbours who were victims of prank calls . But as the crime progresses with clues discovered by Maudie, Ezra begins to value Maudie's cleverness without needing any technology.
Ava showed that she liked Maudie on her first day of school, even though she hadn't met her, including the fact that she kept a cupcake and at the same time, she was worried after Maudie disappeared, only to leave the room through the window. and enter through the door. Ever since he met her, Ava and Maudie started to socialize very well and always considers her incredible for her ability to solve cases, even if she is confused or generally disagrees with some facts. Usually, the two agree a lot on socialization, because they didn't believe that Ben putting Disk Chockey in his mouth was fun. They also demonstrate to do various activities together like cooking, doing work together, etc.
Ava is generally concerned about Maudie about her difficulty in socializing with people, especially with her sincere behaviour that makes Ava even reply that it was very rude on her part, and is also very shocked to see that she doesn't knows about things like Disk Chockey. Also, in "The Case of the Very Lost Notebook", Ava felt worried about Maudie when she lost her notebook and became very desperate and then led her into an outbreak. After Maudie reveals that her notebook has pictures of her mother who died of an illness, Ava began to think that the reason Maudie was so desperate was because of the photos, since that was the only thing she remembered . In "The Case of the Baffling Birthday", Ava shows that she is shocked by Maudie after this line that she never had a party and then decided to plan one, as this was an opportunity to spend more time with the people she knows, and that led her, along with Ezra, Kyle and Maudie's father, Brian, to put together a case about a letter from a conference in Hong Kong, in which Ava had read, however, Maudie knows that Ava would never read anything other than her own. After that, Maudie was grateful for what her friends did, and at the same time, for having a surprise party.
Kyle met Maudie when Ezra was sent by Mr. McGillick to introduce her to school, and he was impressed by her cleverness after she found out who took Ava's money, which she had earned after selling 40 cupcakes (except 2, who left it for her and Maudie). Because of this, Kyle, along with Ezra, Ava and Maudie, formed the Inbestigators' investigative agency. During all the investigations, Kyle starts to consider Maudie very incredible, and because of that, he is so impressed that he sometimes decides to copy her, pretending to be an observer and that he can solve a crime just like her without a doubt. Usually, Maudie considers his personality a problem, because he always interrupts and makes silly explanations or gets distracted by things, and forgets what he should ask.
However, Maudie considers his advantage in the group to be his sports knowledge and, at the same time, food, if the case is related to it, and is generally impressed to see that he rarely discovers things related to the case, but despite the same not contributing in relation, it contributes in relation to the description of the sport. As revealed in "The Case of the Miraculous Mini Golfer", Maudie was impressed to see that Kyle has a great knowledge in mathematics after he answered how 20 for 20 works with sports mathematics. "The Case of the Tricky Trimathlon" also showed that Maudie generally feels that Kyle has knowledge that he cannot show due to the fact that anything he sees distracts him at the time, even with Ezra's disagreements, who initially did not accept him as his teammate.
In "The Case of the Very Lost Notebook", Maudie was desperate to lose her notebook. Kyle, along with the others, is concerned to see that she began to act strange during class, since without his notebook, Maudie would not think of anything else. Kyle then decides to help her find it, showing it completely focused on the facts of the case, however, he got a little distracted, but that didn't make him give up on the purpose of the case, seeing that Maudie was completely upset. After supposedly thinking that Mrs Parides had taken the notebook, Kyle felt guilty, but after mentioning about the fourth year netball game, Kyle finds the notebook, which impresses everyone, including Maudie, who thanks him and hugs him, where he starts to consider her hug "disgusting". "The Case of the Interrupting Intern" once again showed Kyle's concern, after he forgot about Maudie and thought only of Elijah, who solved the case of the lost bike before Maudie. Kyle began to swear that if she didn't come back, she would resign. After Elijah admits that he tricked everyone into joining the agency, Kyle apologizes to Maudie and the others as well.
In "The Case of the Unhappy Camper", Kyle started pissing off all fifth graders during Grade 5 Camp, including Maudie, where he started trying to get her out of the room together with Ava as one of his rules, and the it prevents him from throwing Ezra's books out the window, and Maudie finally realizes that he was confused about what camping is. Maudie was also one of the victims of Kyle's pranks while preparing dinner. When Mr. McGillick accuses him of putting his cell phone in the rice pot as one of his pranks, Maudie sees that Kyle would never do that kind of prank, because it is not funny, but rather, a disrespectful prank with the director, and that all the other pranks were meant to be fun and scare everyone. Maudie tells who was responsible: Archie, but she doesn't blame him for the fact that he was very offensive to Archie in relation to his fear of sleeping away, making him apologize.
Others
Appearances
Trivia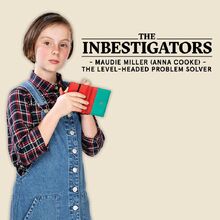 Her mother passed away after falling ill, which is introduced in the show when Maudie loses her notebook.[CN 1]
TV Tonight describes that Maudie is a competition with Sherlock.[2]
Critics describes that Maudie shares some similarities to Mr Monk, as she says his famous words, "This is what happened".
The origin of Maudie's annoying behaviour is possibly taken from her father, as show in "The Case of the Concert Catastrophe", Brian also likes to tell jokes just like her.
Maudie is the third oldest Inbestigator, as revealed in "The Case of the Baffling Birthday", but she is the shortest of the group.
Maudie's actress, Anna Cooke, during an interview, informed that she needed to cut her hair for the role: "I saw a notice in the school newsletter and decided it looked fun. The auditions were fun but I had to learn lots of lines from the show for the audition. I had three or four auditions and most of us didn't know until the end if we had the parts."[3]

Currently, Maudie's actress had to wait her hair to grow as seen in the webinar and her Instagram.
Also, Butler added to describe Maudie's appearance, saying: "One of the defining features of Maudie is that she doesn't care how she looks," and "That's a really unusual thing to see on television or social media, to see someone who cares about the way the world works and how people think and feel, rather than anything else. I know with the young women that I'm raising (17-year-old Emma, and actor Molly Daniels, one of three young writers on the series), they want to look good but they're also more accepting of another way of being. They value intellect."[4]
The InBESTigators: Teaching Toolkit also describes a big pleasant of Maudie's appearance during the series: "Maudie is different. It's not just the way she wears boots instead of school shoes and has short hair instead of the regulation grade five-girl-ponytail and, in fact, doesn't even seem to care what she looks like."[5]
Maudie might have love feelings for Ezra, but it was never shown in the series.
Maudie and Kyle are the only characters which appeared at all the histories.
References
↑ Maudie: - "The Case of the Very Lost Notebook"