"

What? How? When? Why?

"
—Ava's recurring quote.
Ava Rose Andrikides is one of the main protagonists of The InBESTigators. She is portrayed by Abby Bergman.
Personality
"

The Organised, Social one.

"
—Ava's description on her bio image.
Ava is a girl who is very optimistic, in addition to being creative, kind and friendly and cares a lot about people, and because of that, she always sets up anything at school, be it a storage room or a tent, to make money for something (among these events one to set up a bike station, another to help Tom promote the Franklin Cube, and to raise money for arts room materials). During investigations, Ava can sometimes get distracted by the conversation easily, but even so, she confronts everyone when people are caught doing a crime, encouraging the good in people and making them apologise.
One of her most notable features is her humour, where Ava loves to use jokes on occasion, although she sometimes exaggerates, but even so, her jokes don't offend people, however, they make them think it's weird. Ava is also very concerned about her friends when they get nervous, and always goes out of her way to comfort them, including Ezra, Kyle and Maudie. She was considered by all to be a good leader, and many think she could be something bigger in the future, someone important, which led her to be chosen by the committee of Future Leaders in her community, along with students from other local schools.
Ava, however, also proves to be very temperamental on many occasions, especially when Kyle tries to get her a cupcake for him (or something else she sells at the stall) for free, and he promises that he will pay for it later, however, he always ends up forgetting, which led her to accuse him of stealing her owl tin, just for Ezra to prove Kyle's innocence. During the grade 5 play, Ava, seeing all the mistakes that were happening in the technical rehearsal, gradually started to get angrier with the cast and the production team and began to pressure everyone to rehearse with the minimum of errors if possible, and that led Esther to pretend to have sprained her ankle because of the pressure of the rehearsal, making her nervous. Ava, after Esther confessed, she apologized for the pressure. She is also angry when someone lies about a crime and pretends not to know anything.
Ava also defends people, especially Pixie when she was accused by Miss Tan of not making the solar system model, and Ezra after Mr. McGillick pointed out that she suspected he had taken her can to buy the website software for 75 dollars, and sometimes get confused by some explanations by Maudie. In "The Case of the Sleepover Secret", she shows to be very worried about Pixie when she showed to be nervous, this is because her parents were divorcing, and she was very sad that Pixie thought she had told Amelia and avoided entering in any form of contact with her. "The Case of the Copy Cat" demonstrated that Ava, at important events, was nervous, under pressure and afraid that her speech would be rejected by the public, but at the same time confused and unaware when Savannah accused her of stealing her speech. , and when she found out that Savannah had stolen her speech and copied it to pretend it was hers because she was jealous of Ava's popularity, she showed that she didn't come to the committee to compete with people, and she was grateful that her friends helped her.
Ava, in "The Case of the Fishy Fundraiser", showed that she was concerned for Amelia that she was acting weird because Toby's lemonade stand was more popular than hers, but at the same time suspicious after it he began to act rudely about the sabotage of Toby's lemonade, and then, after Maudie discovered that Toby did it to himself accidentally, Ava nevertheless made her apologise to him for being too rude. "The Case of the Incridible Fortune Teller" demonstrated that Ava gets angry when someone rolls up to give a suggestion, especially Ramona, who only stayed on the tablet and did not pay attention to the meetings before the Coins for Cure fundraiser. She also shows that she believes there are psychics after Ramona predicts that she would go to the dentist, and that caused her to be in conflict with Ezra, as he does not believe that psychics exist, but seeing that Ramona cannot predict the future, Ava was furious at see that she disrespected the privacy of others by taking pictures of her notebook with the tablet. Then, Ava and Ezra finally realized, that despite their opinions, they can still understand each other.
Appearance
Ava is a girl with long brown hair, in addition to using as a ponytail, having a braces on her teeth, and blue eyes. She also appears to have a height that exceeds that of Maudie and Ezra, trailing only Kyle, although he is younger than she.
School

Ava wears very feminine clothes at school. During her first appearance, she wore a school outfit that consisted of a gingham dress in blue and white colors, a dark blue jacket with light blue details on the sleeves, black socks that reach up to the thighs, and black shoes. She appeared in the same outfit in "The Case of the Very Lost Notebook" and in "The Case of the Misplaced Mug", however, in the latter, she appears without the jacket, but with a white long-sleeved blouse under her dress.
In "The Case of the Disappearing Deliveries", Ava wore a light blue shirt with black details and the school logo in black over a dark blue short-sleeved blouse, a dark blue skirt, as well as wearing her socks and shoes again, in which both are black. In "The Case of the Distressed Dancer" and "The Case of the Pestering Prank Caller", she wears the same outfit but with her dark blue jacket.
On "The Case of the Big Mouth Challenge", Ava used her gingham dress in blue and white colours, with white socks and black shoes. Sometimes, she wears it with dark pants, a dark blue long-sleeved shirt, or with a dark blue apron with red stripes (the last during art class).
On "The Case of the Exciting Excursion", Ava wore a light blue shirt with the school logo in dark blue, as well as buttons of the same colour, a dark blue jumper, a dark blue skirt, dark blue leggings (or pants) and white trainers with hearts and pink soles with white socks, the latter in recommendation to the school for climbing.
Casual
History
Background
Ava started attending Middle Primary School, and at 5, she met Kyle, who was new at the school and asked everything about him to make a chart, however, Kyle did not answer, since he was afraid of her. Ava, at some point in her childhood, met Pixie, and they became best friends.
At some point, Ava started selling various things, such as cupcakes, donuts, among others, to raise money whose purpose is to give benefits to the school. Ava, before the events of the series, did several things: she went to Kyle's 9th birthday in climbing, played a basketball game at school together with Pixie and Kyle, and they lost, where Kyle got a little angry, and went to Kyle's 10th birthday at the Palace of Pancakes and she was shocked to see that Kyle was going to eat 9 pancakes as her new record.
During this episode, Ava starts a cupcake stand to raise money to build more bike racks. When Ezra arrives at her stall, she asks him if he wants a cupcake to help her and he accepts and asks if he had already met the newbie, however, she says no, but says she thought it was cool. Soon after, Kyle, to cheer Billy up, tries to get Ava to give him two cupcakes with no money, where she reminds him that he already told her that when she opened a donut stall, hot dog or other things he sells in the garden of pebbles and forgot to pay later. Kyle then tries to order just one, but Ava refuses, saying that he will only receive a cupcake if he pays for it, even so, Kyle continued to try to convince her, but to no avail.
When Miss Tan dropped her papers, she asked everyone for help to get the papers before they are blown away. Ava, along with other grade 5s, went to help, except Billy, who stood by Ava's cupcake stall, and no one realised he had taken the coins and put pebbles on him. Ava then picks up her things and goes to the living room to meet the new student, Maudie Miller, however, she cannot find her, only Ezra, who explains that she had entered and left through the window. Ava leaves Ezra to take care of her things and goes to look for Maudie at the playground, and accidentally throws her owl can at Ezra's foot. After not meeting her at the playground, Ava arrives in the room with Mr. McGillick trying to convince him to make a report on Maudie, who has been missing since she left the window, where Maudie appears, saying that she had done this to enter the through the door, and Ava hugs her.
Ava, along with Kyle, Ezra and Maudie, meet Sophie at her house to find out who had picked up Sophie's frozen yogurt packages. Upon seeing Grace, the victim's best friend, Ava was impressed by her earrings, but when Maudie insults Grace by saying that she says Sophie has a lot of money was very rude, Grace, from then on, started to reject the four and Ava started to suspect her after that. After meeting Oliver, Sophie's younger brother, they go to neighbor Joanna's house and she accepts Joanna's invitation to invite the four of them to tea at her house, unlike the boys and Ava started to suspect her after she said that the stolen packages are a lesson for Sophie to buy on the internet. Upon seeing her dog, Dustin, Ava began to find her very cute and was impressed by the decorations in the garden.
When Maudie explains that Oliver had picked up Sophie's frozen-yoghurt packs, Ava starts to disagree by giving a minute, says it was Grace because she was jealous of Sophie having a lot of money at the frozen-yoghurt shop, however, Maudie denies this, saying that when the packages were stolen, she was being interviewed for a job at the store, and then Ava talks about Joanna, as she mentioned that the crime would serve as a lesson for Sophie not to buy more stuff online, but it also denies this. Then, when Maudie explains, she finds the packages hidden in Joanna's mini-van, where Ava finally understands why Dustin was scratching in the beginning.
In this episode, Ava, while picking up the fullest ball during netball class, a girl called her, where she revealed herself as grade 6 Kelly Pickett, who wants Maudie to become a tutor to help her study. Ava, at first, feels confused by the Inbestigators' act of just solving crimes, not becoming tutors. So, Ava asks if she wants Ezra's help too, but she doesn't know who he is, where Kelly explains that she doesn't want anyone to know that she's being tutored by a grade 5 and wants help with the Mr Barker's Pop Quiz, because Dayani and her team win all the time.
Appearances
Relationships
Friends
Ava showed that she liked Maudie on her first day of school, even though she hadn't met her, including the fact that she kept a cupcake and at the same time, she was worried after Maudie disappeared, only to leave the room through the window. and enter through the door. Ever since he met her, Ava and Maudie started to socialize very well and always considers her incredible for her ability to solve cases, even if she is confused or generally disagrees with some facts. Usually, the two agree a lot on socialization, because they didn't believe that Ben putting Disk Chockey in his mouth was fun. They also demonstrate to do various activities together like cooking, doing work together, etc.
Ava is generally concerned about Maudie about her difficulty in socializing with people, especially with her sincere behavior that makes Ava even reply that it was very rude on her part, and is also very shocked to see that she doesn't knows about things like Disk Chockey. Also, in "The Case of the Very Lost Notebook", Ava felt worried about Maudie when she lost her notebook and became very desperate and then led her into an outbreak. After Maudie reveals that her notebook has pictures of her mother who died of an illness, Ava began to think that the reason Maudie was so desperate was because of the photos, since that was the only thing she remembered . In "The Case of the Baffling Birthday", Ava shows that she is shocked by Maudie after this line that she never had a party and then decided to plan one, as this was an opportunity to spend more time with the people she knows, and that led her, along with Ezra, Kyle and Maudie's father, Brian, to put together a case about a letter from a conference in Hong Kong, in which Ava had read, however, Maudie knows that Ava would never read anything other than her. After that, Maudie was grateful for what her friends did, and at the same time, for having a surprise party.
One of Ava's most difficult relationships is with Kyle, as he always loves to get her a cupcake (or whatever else she sells) for free and he forgets to pay for it later. Because of this, Ava found Kyle very annoying, especially for his silly behavior, and this made her accuse him of taking his owl can to pay for everything he owed her, however, Ezra proves his innocence, making Ava apologize. After Maudie solved the crime involving Ava, she, along with Kyle, Ezra and Maudie, formed the inbestigators' investigation agency.
During investigations, Ava began to find Kyle very distracted by the fact that he was always thinking about sports and food and not focusing on the investigation, making her always angry, especially when he made up some silly explanation about the case or accused everyone without any evidence, even so, Ava starts to appreciate Kyle when he rarely shows his cleverness and is very focused on the case, but she is also devalued by him for being distracted by the conversation and forgetting to ask.
Others
During the boy's first appearance, Ava began to be impressed after he helped them solve a crime (which he himself had committed), which was when her friend, Amelia, witnessed the theft of her bike. After that, Ava became so obsessed with Elijah along with Ezra and Kyle, making them approve of him as an inbestigator, and at the same time, she started to hear only what he said and didn't notice that Maudie was suspicious of it, and at the same time, very angry to see that her friends ignored her.
But, Ava did not notice that Elijah had committed the crime to enter the agency and she, after discovering this, was reminded of Maudie and very angry with him. After the same was expelled, Ava finally decided to apologize to Maudie after realizing that Elijah had deceived everyone, considering her the main source of heart and soul for the agency, and asked her to vote, where she accepted.
Trivia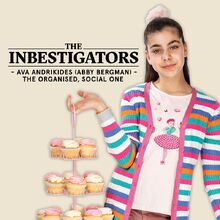 Ava is one of the oldest Inbestigators, along with Ezra, and she is the second tallest of the group, behind Kyle.
Ava's full name is Ava Rose Andrikides, as mentioned in "The Case of the Sleepover Secret".
Judging by her accent, it is possible that she was born in Australia. However, this hasn't been confirmed.
Ava's characteristics, like her personality, makes her similar to her actress, Abby Bergman, which was coo during an interview in January 2020.[1]
Her comforting personality makes Maudie say she can work at the United Nations, but Ava may decide to take another route.[2]
She is the only Investigator with no other known family members, except for her dad, who hasn't been seen as yet but was mentioned in The Case of the Pestering Prank Caller.
Her famous quote is "What? How? When? Why?", to express her confusion in relation to the case.

Ava is one of the characters which has some famous quote, including Kyle Klimson and Mr. McGillick.
References